Embracing the Change: How E-commerce is a Game Changer for the Food & Beverage Industry
The food and beverage (F&B) industry is unique as its goods have a short shelf life, which introduces time sensitivity in the supply chain. A small window for consumption makes the quick and seamless flow of goods, right from marketing to delivery vital, but tricky.
As supply chains evolve and new trends keep sprouting up, F&B companies are getting up to speed with the ever-changing consumer demands. At the same time, the industry cannot afford to sell supplies past their expiration dates and make consumers unhappy. So businesses must align their internal processes, be inviting to new trends, and implement AI and machine learning innovations with an open mind.
In 2020, the United States online food delivery market was estimated to be valued at US$ 21.2 billion. On a global level, online sales are predicted to make up 15-20% of the food and beverage industry's overall sales by 2025. As disruption is a constant in this industry, traditional F&B business models simply cannot compete, and must evolve and adapt.
Emerging trends in the F&B industry
As commerce picks up pace and disruptions mark the F&B industry, there has been an inevitable shift from the global sourcing of materials globally to near-sourcing, from manual supply chain operations to automated, and from delayed to instantaneous sourcing. All of this has been largely catalyzed by the macro and micro trends below:
Macro-trends: One noteworthy trend is how more and more F&B companies are designing circular economies that are dedicated to creating a sustainable environment. Heineken, for example, has processed around 83,000 50-liter kegs and turned them into green energy since it first began the initiative in May 2020. Other trends that are making their mark include talent management, new technology, constantly changing Federal Motor Carrier Safety Administration (FMCSA) rules, and other safety regulations.
Micro-trends: Digitalization, the adoption of new software and technologies, and an explicit emphasis on speedy delivery are some of the micro-trends that are shaping the F&B industry. This is largely to keep up with rapidly changing consumer preferences and stay relevant in a highly competitive industry. Customers have less patience, change preferences quickly, and have innumerable options to choose from. This is why providing same-day delivery and personalized services to customers is no longer an option, but a new standard across all industries.
Digital transformation in the F&B industry
However, to say that digital transformation is a mere trend may be misleading. E-commerce is a reality across industries for the foreseeable future. Industry giants like Amazon and Whole Foods have made shopping for food and beverages with swift deliveries the norm. This means that businesses that do not keep pace with this change get left behind.
The rise of online supermarkets: The first signs of the turning tide were in 2017 when Amazon took over Whole Foods. The ease that the online platform brought to grocery shopping attracted customers, both young and old, to these websites and applications. Millennial buyers, especially, were flocking in huge numbers to make these purchases. Soon enough, other innovative approaches like in-store lockers and click-and-collect gained popularity, more so with the coming of the pandemic as the customer was forced to stay home.
Innovation for growth: Improvements in technology are providing customers with smartphones, tablets, watches, and other smart devices that make the entire supermarket available to them at their fingertips. But digital innovations have benefitted companies as well, and the advent of the digital supply chain is proof of the same. Businesses are no longer following a linear path as technologies such as robotics, augmented reality, and AI are creating processes and systems that help make more informed decisions, leading to improved competitive advantage.
Logistics solutions for your F&B supply chain problems
The focus of omnichannel retailing is to provide a seamless customer experience. This means that no matter which shopping channel they choose, their journey must be without any kinks. A sound and agile logistics and supply chain management system can optimize the various legs of the chain. Here are the ways in which Locus can come to the aid of F&B businesses:
Create advanced dispatch plans and track orders in real-time
Traditional methods fall flat when delivering hundreds and thousands of goods in a time-bound manner. Such methods might also be not as effective and should be avoided when trying to effectively handle large orders. DispatchIQ carries out the intelligent clubbing of orders so that daily dispatches can be planned with ease. Locus' geocoder is also responsible for simplifying complex addresses and putting them on a map so the order can reach the customer as quickly as possible. TrackIQ, with its advanced fleet tracking system and insights, provides both the customer and the company with the Expected Time of Delivery (ETA). Locus On the Road App (LOTR) also helps delivery executives with route schedules and navigation. 
Make smarter supply chain decisions and plan for the future
Locus' solutions for the F&B industry take care of daily dispatches but can also be sought for long-term planning. FieldIQ is one such intelligent platform that can be used to improve resource utilization and increase the operational efficiency of the retail supply chain. Businesses can benefit from optimized Permanent Journey Plans (PJP) and Permanent Dispatch Plans (PDP), both of which can be customized to suit the needs of a particular company.
Locus' NodeIQ is an intelligent network optimization and design engine that makes use of advanced deep data principles to carry out data sanitization and provide consistent data sets that are fit for analysis and securing revenue-generating insights. It's known for creating a 'digital twin' of the supply chain with a geospatial visual simulation that can run all possible alternative scenarios that can help you make the right investment to future-proof your supply chain. 
E-commerce makes up the future of the F&B industry, and the changes it brings with it must be welcomed wholeheartedly. The modern consumer is informed, tech-savvy, quality-conscious, and on the lookout for the best deals that are also sustainable. AI and machine learning can help pave the way for businesses to keep up with these demands, and logistics tech can help.
To future-proof your F&B company's supply chain with such technology solutions, click here to schedule a demo with Locus today.
Sources:
Related Tags: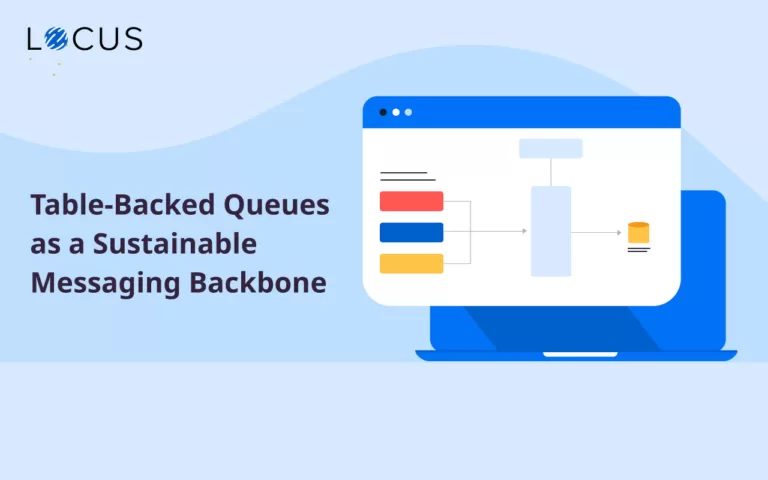 Aug 16, 2021
Alright, there's been enough speculation (or plain provocative commentary) on why Relational Database Management Systems-backed (RDBMS) queues are a nightmare—to the point that you'd strongly consider holding back your opinion to use them even where its real perils are far from manifesting. At Locus, solutioning follows first principles, and evangelistic projections of the right tool […]
Read more
Aug 26, 2021
The Food and Beverage (F&B) industry has been one of the most untapped categories in the direct-to-consumer (D2C) marketplace. Since the start of the coronavirus crisis, F&B products have gained significant traction on e-commerce platforms. With goods going regularly out-of-stock in stores, consumers have been forced to use digital channels to fulfill their product needs. […]
Read more
Embracing the Change: How E-commerce is a Game Changer for the Food & Beverage Industry
SUBSCRIBE TO OUR NEWSLETTER
Stay up to date with the latest marketing, sales, and service tips and news