Meet Locus' Lead Data Scientist Who Has a Knack for Working With Difficult Things
All of us know of at least one person who is particularly good at doing difficult things. What is complicated and tedious for most is a walk in the park for them. They also don't call difficult things difficult; they call them challenging. Locus' Lead Data Scientist, Abhishek Roy, is that person.
He is too humble to admit of this quality in him, though. His educational background is proof of this too. Abhishek has a BA in Physics and Mathematics from the University of California and a Doctorate in Theoretical Physics from the University of Illinois. One of his recent wins at Locus is the award for innovation that he received for successfully leading the overhaul of our Routing Engine Logic, which lays the foundation of the company's business.
Locus was not part of the plan for him, however. He was at a crossroads and had to choose between continuing as an academic physicist and switching to something more practical. "I was looking at a bunch of things and, in the interim, came back to India. When I saw the assignment problem at Locus, I was pretty impressed", says Abhishek.
What's a physicist doing with data science?
On being asked about what drew him to the data science field, he pointed out what pushed him away from it—the fact that everyone's doing it. He remembers reading a Twitter thread that dwelled on the possibility of a future where data scientists would make up 100 percent of a tech company.
One doesn't need a Ph.D. to be a data scientist, but one way in which it has helped him is honing an exploratory scientific mindset. "I think some people tend to think that they will be rewarded for the fastest answer. It makes you look smart; someone asked a question and boom! You have the answer. But irrespective of whether the answer is wrong or right, the approach may be wrong here as you don't even know what you're replying to, at times", says Abhishek. He places a lot of value in spending more time to understand the question.
He's also not intimidated by the volumes of mathematics required in this field. That and a sense of comfort with reading academic literature have proved to be his big strengths. "We work on specialized problems, and it's not like the answers are hidden somewhere in the papers, but you can learn something or pick up a nugget."
Sitting with the questions
Does he have a problem-solving process? Abhishek hesitates to talk about himself but admits to doing a few things differently than other people. Having a larger picture of the problem and looking for long-term solutions instead of mere quick fixes helps greatly. He explains with the help of a typical question in routing. Something goes wrong, and now people are upset because what was working before isn't anymore. Say it works for four days, and every fifth day it goes wrong. "The temptation is to patch up the exact thing that went wrong because it helps you tell your client that you have an immediate solution. But the more time you spend with it, the more you learn of a deeper pattern in place," he explains.
Sure, there are limits to carrying this out in an application-oriented industry where one needs to rush and show something. If one has a grand plan, one needs to be able to take it forward and sometimes execute it solo. This is something that comes easier to him than most people. "You need the kind of pragmatism that tells you a plan can't be too far-fetched. I generally don't underestimate the effort that something could take," he says.
Like learning to ride a bicycle
What's Abhishek's highlight at Locus been so far? He speaks of a client they have in Canada who was expecting them to do something completely new and different. It was the second month of lockdown, and he just tuned everything out to focus on the project for about three weeks, ran it for the first time, and found it to be successful. "It was quite an amazing feeling. It was like riding a bicycle for the first time without training wheels; you know you could easily fall, but it's amazing nevertheless," he says.
The bike analogy is curious as it makes an appearance later in the interview when talking about a memory from his childhood. It is also one on the lines of challenging things. Abhishek tells us he took an above-average number of falls riding a bicycle but refused to give up till he got the hang of it. "So, when I was in the US, and I had a cycle, I would ride through everything—even when it was -10 degrees outside", he says. Much later, he taught himself to ice-skate as well.
Doing the hard things
For Abhishek, one of the things that was hard to do at work, and even otherwise, was accepting something might not work out despite putting your best efforts."You spent a lot of time crafting and coding an idea; you tried your best, but it doesn't sit with what the problem demands, so you have to cut your losses and start over. That's hard because you spent a lot of time on something but have nothing to show for it," he says.
When asked what advice he would give to someone looking up to him, Abhishek laughs and says no one has ever told him they want to be like him. He then goes on to shell out some solid advice, "People keep saying that they want to keep learning. But learning is hard. Learning often means that you've been doing something for a while, and you need to change that and do it another way." He says that to figure out how to work efficiently, you need to keep learning and doing new things, and perhaps get better at them so that you don't fall into a rut. You also have to accept that it's going to be hard and painful at the same time.
Does he think it's all worth it—the toil and the agony that comes with lifelong learning? "When I was a young, idealistic boy in my half-pants, I would have definitely said it's worth it. Now, I (still) think it's worth it, but I also realize that I can't answer for everyone. I mean, there are people who are truly happy doing one thing really well, while others enjoy challenging themselves", he says. For Abhishek, it is all worth it if some part of it is enjoyable. Falling from the bike may not be enjoyable, but the bike ride is, and that's what counts.
Talking about hard things, moving away from the academic world was difficult for him, though it did bring stability with it. He says that things sort of fell into place, and he was able to be productive immediately. Locus had a clear problem—an old system that did not allow them to do certain things—and they wanted to try something new. The problem statement changed over time and it took a while before what Abhishek did was put into production and applied, but he could see, on a daily basis, that he was making progress. So, it did work out remarkably well, in the end.
The end is nowhere in sight for learners, however, and Abhishek considers it to be a lifelong practice. He expresses gratitude for his parents for having been his safety net at all times, especially when he was between jobs and figuring out what to do. "Even when I was not working or uncertain about what I was doing, I always had their support, and so I wasn't battling it alone. So there wasn't that challenge which, to me, is much harder," he says. Either way, there are times in life that offer a lot of learning.
The lesson doesn't have to come to you through a proper teacher—it could be learned just by watching someone do something. To be able to teach someone else with as much patience is something that Abhishek is one of the many things he tries to live by. "It is something I try to pay forward. I try," he smiles. It can be agreed upon that he is often successful in these endeavors.
Quick Questions
Related Tags:
Aug 2, 2021
With a massive demand for daily life essentials, the world is staring at another tough time. Whether it is top retailer brands, or small retailers, both are facing the heat to allocate their resources for standard delivery, next-day delivery and same day delivery. As the in-store traffic has reduced, things are not going smooth for […]
Read more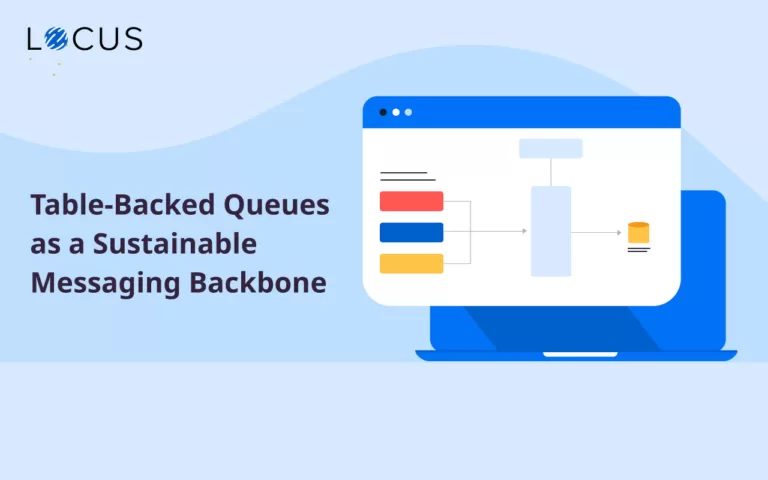 Aug 16, 2021
Alright, there's been enough speculation (or plain provocative commentary) on why Relational Database Management Systems-backed (RDBMS) queues are a nightmare—to the point that you'd strongly consider holding back your opinion to use them even where its real perils are far from manifesting. At Locus, solutioning follows first principles, and evangelistic projections of the right tool […]
Read more
Meet Locus' Lead Data Scientist Who Has a Knack for Working With Difficult Things
SUBSCRIBE TO OUR NEWSLETTER
Stay up to date with the latest marketing, sales, and service tips and news